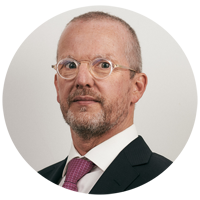 Luc A. Otten
Founder and Managing director
Dr Luc A. Otten (MD, PhD) is the Founder and Managing Director of Otten Life Sciences Consulting.
He brings a rare mix of expertise from more than 20 years in healthcare, encompassing medical training, academic research in a world class laboratory, awarded equity research on biotech companies in an independent brokerage company, recognised work in health care in a venture fund and solid management work in several biotech companies.
His missions include executive positions and non-executive board memberships for life sciences companies, and consulting, investment advice and financial analysis in life sciences industries.
Work experience
Since January 2023, Dr Otten has been CEO of TheraPPI Bioscience SAS (France), an emerging biopharmaceutical company developing small molecules modifying protein interactions. Since April 2022, he has been member of Scientific Advisory Board of Acthera Therapeutics (Switzerland), a biopharmaceutical company developing an innovative targeted release technology. Since September 2021, he has been member of Scientific Advisory Board of Mablink Bioscience (France), a biopharmaceutical company with an innovative and hydrophilic drug-linker technology antibody-drug conjugates. He has been a non-executive board member of Netris Pharma (France), a clinical-stage immuno-oncology company from April 2020.
During 2020, he worked as CSO at Promethera Biosciences (Belgium), a company developing cell therapy against severe liver diseases. Prior working to Promethera, from December 2019 to January 2021, he was independent director of Supervisory Board of Captor Therapeutics (Poland). From 2014 to November 2019, he worked as COO at Phi Pharma when the company transitioned from a virtual company to a drug discovery company, active in the field of peptide drug conjugates for oncology.
Between 2011 and 2015, he worked as Principal for Vinci Capital (now Renaissance Management) which had portfolio companies in the biotech, diagnostic and medtech sectors (Addex, Anergis, Evolva, Immatics, Sensimed and Symetis). From 2008 to 2010, he worked as a financial analyst performing Equity research for the biotech and pharma industries at Helvea/Pictet Group (now part of Baader Bank), an independent brokerage company. In this role, he initiated coverage of European biotech companies (Ablynx, BioInvent, Genmab, MorphoSys) writing sector reports in the pharmaceutical and biotech industries.
His career began in academic research as a postdoctoral fellow at the Ludwig Institute for Cancer Research (Lausanne Branch) in 1999, continuing as junior faculty member at the University of Lausanne in 2007.
Education
Luc Otten received a Diploma of Medicine, a Doctorate of Medicine – MD (Faculty of Medicine) and a Doctorate of Philosophy – PhD (Faculty of Science) at the University of Geneva (Switzerland). He also received a Certificate of Advanced Studies (CAS) in management of biotech, medtech and pharma ventures at the Ecole Polytechnique Fédérale de Lausanne (Switzerland).
Associations
FMH/VSAO-ASMAC
Swiss MD-PhD Association
Achievements
Dr Otten has co-authored 23 peer-reviewed scientific publications, including key papers in immunology and a notable paper on the first genetic animal model of histiocytosis (a rare inflammatory myeloid neoplasia).  He has a strong track record of predicting potential success or failure of drug development as an equity sell-side analyst. He has helped investments funds exit listed biotech companies, played a lead role in finding equity and grant financing to support discovery drug projects and successfully directed discovery work.
Mindset
Dr Otten can seamlessly move across different work environments in health care, bringing a "multidisciplinary" mind-set to the financial and health care industries. He delivers a unique combination of deep scientific understanding with financial analysis and business strategy, instilling enthusiasm among team members to set and achieve strategic objectives. He is an experienced international presenter taking a vibrant approach to promote investments. He enjoys applying a multivariate perspective to create deep value for a variety of stakeholders.